AFFF exposure has been linked to several types of cancer.
AFFF, or Aqueous Film-Forming Foam, is an effective firefighting agent used by firefighters from both military and civilian units to suppress fires. It has been found that this popular firefighting foam contains harmful chemicals such as PFAS (polyfluoroalkyl substances) that are believed to cause several types of cancer as a result of regular eposure. These chemicals remain both in the human body and the environment after use, often working their way into the local water supply of nearby communities through groundwater contamination.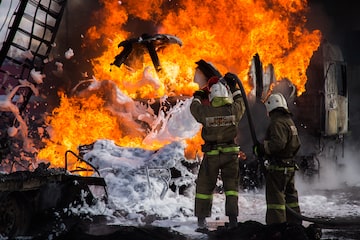 Composition of AFFF
Aqueous film-forming foam, or AFFF, has been manufactured with perfluoroalkyl and polyfluoroalkyl substances (PFAS) since the 1950s. Two particular PFAS compounds found within the foam are perfluorooctanoic acid (PFOA) and perfluorooctanesulfonic acid (PFOS). These synthetic chemicals work to suppress flammable-liquid fires by creating a barrier between the fuel and the oxygen it needs to burn.
Both PFOA and PFOS have been identified by the EPA as "emerging contaminants" , meaning they are suspected of causing negative health effects in humans. Additionally, these chemicals are "persistent," so they don't break down after entering the human body or the environment. When firefighting foam is used, PFOA and PFOS spread throughout nearby soil, often contaminating local drinking water sources. Once ingested, the potentially toxic AFFF PFAS will remain in your system and continue to "bioaccumulate" upon further exposure.
Types of cancer include:
Kidney cancer
Testicular cancer
Ovarian cancer
Bladder cancer
Liver cancer
Breast cancer
Pancreatic cancer
Prostate cancer
Leukemia
Non-Hodgkin's Lymphoma
Skin cancer
If you or a loved one have suffered losses you can seek compensation. Claims are time-sensitive. Contact us today by filling out the no obligation claim review to get started.
Find Out if You Qualify

SIGNIFICANT Compenstation May Be Available
1. See If you qualify for compensation
2. We connect you with experienced lawyers
3. Get justice for you and your loved ones
The Environmental Working Group (EWG) and Centers for Disease Control and Prevention (CDC) both warn that exposure to firefighting foam or water contaminated with PFAS can increase the risk of cancer. Because AFFF contains PFAS there is evidence of a link between firefighting foam and certain cancers.
Treatments for these types of conditions can be extremely expensive. Ultimately, exposure to firefighting foam could mean a lifetime of suffering—and struggling to pay staggering hospital bills. If this is your experience, it's time to be proactive about compensation for your pain.
We can help get you and your loved ones the compensation you deserve.
Our team is here to help you get what you deserve. We represent victims across the country and strive for the best possible outcome for our clients and their families to recover damages in their cases. If you don't get paid, we don't get paid. After you submit a claim form, we evaluate it to determine your eligibility and reach out to you with next steps. Our attorneys fight for you to get back the payment for the damages that occurred. There is no upfront cost to using our attorneys. We don't get paid unless we recover the damage expenses that you incurred.