Paraquat's link to Parkinson's
Paraquat, a chemical herbicide used primarily in no-till farming, has been directly linked to Parkinson's disease – yet farmers in all 50 states are still able to use it. Most often used as a spray, Paraquat has caused illness or death through direct ingestion as well as by accidental exposure. If you are a farmer, landscaper, groundskeeper, or gardener, you have probably come into contact with Paraquat.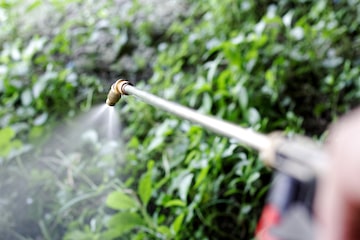 Parquat/Gramoxone Exposure
A 2011 study by the National Institutes of Health found that people exposed to Paraquat are approximately 2.5 times, or 250%, more likely to develop Parkinson's disease.
Lawsuits are being filed alleging that Syngenta, Chevron, and others involved in the process of manufacturing, marketing, and distributing Paraquat are liable for causing or contributing to the development of Parkinson's disease.
If you or a loved one developed Parkinson's or other serious side effects resulting from Paraquat exposure, filing a lawsuit could help pay for medical bills, lost wages, and lost earning capacity.
Find Out if You Qualify

SIGNIFICANT Compenstation May Be Available
1. See If you qualify for compensation
2. We connect you with experienced lawyers
3. Get justice for you and your loved ones
Health Issues After Paraquat Exposure?
Paraquat lawsuits are being filed against manufacturers of the herbicide for failing to warn about the risks of chronic exposure. If you or a loved one were exposed to Paraquat and subsequently diagnosed with Parkinson's Disease or other related health conditions, you may be eligible to file a Paraquat Lawsuit.
We can help get you and your loved ones the compensation you deserve.
Our team is here to help you get what you deserve. We represent victims across the country and strive for the best possible outcome for our clients and their families to recover damages in their cases. If you don't get paid, we don't get paid. After you submit a claim form, we evaluate it to determine your eligibility and reach out to you with next steps. Our attorneys fight for you to get back the payment for the damages that occurred. There is no upfront cost to using our attorneys. We don't get paid unless we recover the damage expenses that you incurred.