J&J Ordered to Pay Billions in Baby Powder Cancer Lawsuits
Johnson & Johnson powders were proven to contain asbestos (a cancer causing agent) and the company failed to notify users of the cancer risk.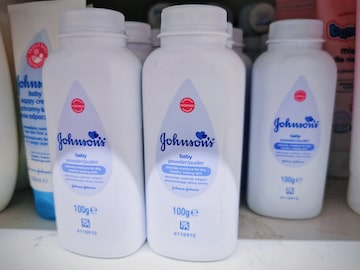 During the past few years, Johnson & Johnson has been ordered to pay billions out to victims and their families over baby powder cancer injury claims including:
$55 million to a South Dakota woman diagnosed with cancer
$110 million to a woman in Virginia who developed cancer after baby powder use
$417 million to a woman in California who blamed baby powder for her cancer
$70 million to a Missouri woman who also developed cancer after talc use
$72 million to the family of a woman who died from ovarian cancer
$117 million to a man who blamed his mesothelioma on baby powder use
$4.6 billion to 22 women who were diagnosed with ovarian cancer after baby powder use
If you or a loved one have suffered losses you can seek compensation. Claims are time-sensitive. Contact us today by filling out the no obligation claim review to get started.
Find Out if You Qualify

SIGNIFICANT Compenstation May Be Available
1. See If you qualify for compensation
2. We connect you with experienced lawyers
3. Get justice for you and your loved ones
FDA Issues Safety Alert Warning Consumers to Avoid Using Johnson's Baby Powder After Testing Positive for Asbestos
OCTOBER 18, 2019 – Thousands of consumers are blaming Johnson & Johnson for hiding that their product is contaminated with cancer-causing asbestos that led to their development of ovarian cancer.
More than 16,800 lawsuits are currently pending across the country, filed on behalf of patients and their loved ones who developed cancer after using the product for personal use.
And while Johnson and Johnson has been denying their baby powder products contain asbestos, the FDA recently found asbestos in J&J's baby powder and issued a warning to consumers to avoid using it.
We can help get you and your loved ones the compensation you deserve.
Our team is here to help you get what you deserve. We represent victims across the country and strive for the best possible outcome for our clients and their families to recover damages in their cases. If you don't get paid, we don't get paid. After you submit a claim form, we evaluate it to determine your eligibility and reach out to you with next steps. Our attorneys fight for you to get back the payment for the damages that occurred. There is no upfront cost to using our attorneys. We don't get paid unless we recover the damage expenses that you incurred.